Despite it being their primary function, watches
are so much more than just tools for telling the time.
At the higher end, they are astonishing pieces of engineering. They are also a way to finish an outfit, an
outrider of your personal style and a means of demonstrating your personal sense of taste.
With
that in mind, your watch is saying a fair bit about you – and one likes a trash-talking timepiece.Here's some common mistakes you'd be best to avoid.
1 | Not knowing what your watch can actually do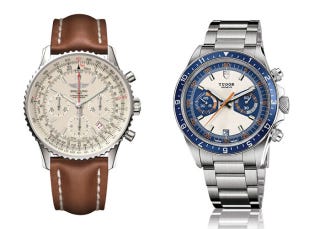 The first rule is to know as much as you can about the watch your wearing as possible: after all, it's the unique features, design elements and complications in watches that set them apart from one another.
The most common complication is the chronograph, which allows the wearer to measure elapsed time, then there's GMT, which is when a watch is able to track a second time zone. From there, the complications get more and more, well, complicated. Generally, the merit of a watch is measured on its level of complication (in addition to aesthetic, design, construction and heritage, of course), so if you're swanning around town with a tourbillon, minute repeater or perpetual calendar and don't know what they are, you're somewhat missing the point.
2 | Getting it wrong in the evening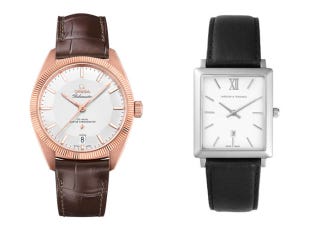 Throughout the day it's more than acceptable to wear your bracelet-strapped pilot's watch, that's exactly what they're for (in addition to helping pilots measure distance and time). But when it comes to smartening up, no eveningwear look is complete without a dress watch. Simplicity is a good rule of thumb. Gold or silver cases, sleek leather straps and understated dials are also worth looking out for. Almost every watchmaker will do a dress watch, although brand is less important. Those by Cartier, Jaeger-LeCoultre, Patek Phillippe and the like are globally recognised as the benchmark, but so long as it meets the above criteria, your tux will still be complimented by something at the lower end of the scale, too. Incidentally… 
3 | Spending loads of money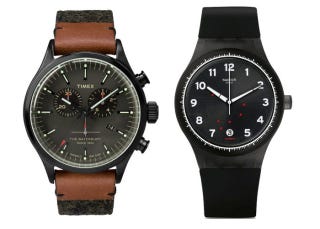 Fine, handmade, mechanical watches cost lots of money. But often the mark-up is relatively small because the expertise and rare materials that go into creating a watch of such eminence are so hard to come by. Whatever your budget, though, you can always find something reliable, handsome and worth wrapping around your wrist. Toward the more accessible end of the market brands such as Farer, Casio, Skagen, Triwa and Nixon are all worth investigating, and each has their own aesthetic and technical merits. As is the draw for many watch fans, you build your collection as you progress in your career, with each purchase being slightly more expensive than the last, and therefore signifying a specific time in your life. That is to say, if you can't afford the Panerai right now, one day you might. But you can still look good while you wait.
4 | Wearing leather in the heat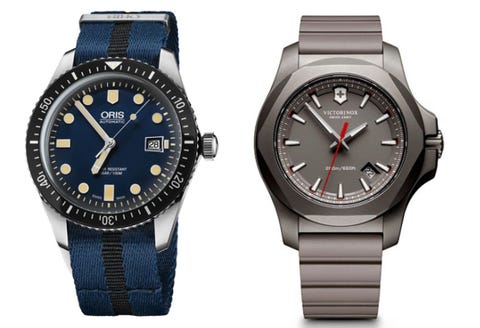 Just like clothes, watches are seasonal. In the same sense that a chunky chrono doesn't belong at a black tie ball, the beach – or the summer in general – is no place for a sleek leather-strapped dress watch. In the warmer months you're best off switching to something with a nato strap as the fabric is a lot more comfortable. Plenty of watches can handle having their straps swapped around, so you might not even have to buy a whole new one, and often, the introduction of a new strap can breathe new life into an old, out of favour watch. If you find yourself on a beach (which hopefully you will at some point over the summer) then something with a rubber or silicone strap will best fit the bill. They're most commonly found on sea-ready divers, so you don't have to worry about getting them wet or knocking them around a bit. Better yet, they're less susceptible to the effects of the salt water, chlorine and sand.
5 | Not taking care of your watch
A few months ago a Rolex from 1942 fetched close to $2.5million at auction. The reason? Well it was super rare, particularly beautiful and technologically ahead of its time. But it was also in exceptional condition. No matter how much your watch is worth, it's not indestructible and its inner workings will wear as time goes on. Good watches hold their value, too, so it's absolutely worth keeping them in ship shape with regular services and cleans. Most brands offer to service their watches, so long as you have a receipt or some way of authenticating your watch. Alternatively, there are independent watch repair shops dotted all over the place and they're perfectly capable of changing glasses, refurbishing dials and fitting replacement parts. 
6 | Wearing it on your left wrist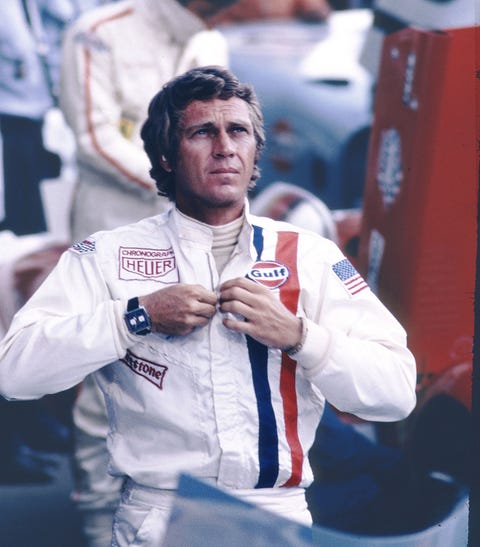 Steve McQueen didn't do it, so there's no reason you have to either.