It's no surprise that Rolex' can raise a lot of money – the brand was named the 71st most valuable global business by Business Week magazine back in 2007, and it's only grown since then. But have you ever wondered how much a Rolex could be worth? Here's five of the most expensive Rolex watches in the world; and the exact price that they sold for.
5. 1973 James Bond Rolex 5513 – $450,000
Anything to do with James Bond tends to do well at auction, and this watch isn't likely to be an exception. The stylish 1973 watch was given a typical Bond makeover, including removing the movement of the timepiece to install a razor disc with a small pinhole and magnetic field generator, both of which were used in iconic scenes in the film. The watch itself features a white on black dial, a stainless steel strap and chassis, and classic British details. It's set to go under the hammer at Christie's, where it has an estimate of around $450,000.
4. Ferrari Red Paul Newman Rolex Oyster Cosmograph Daytona – $267,203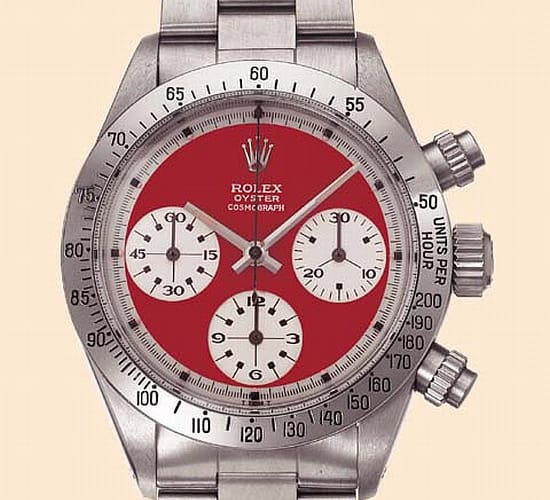 This might be my favorite. Rolex' Ferrari watch teams the typical stylish Rolex design with a bright red dial, and it certainly lives up to it's name. The watch boasts tachometer movements of 200 beats an hour, a 30-minute counter, a 12-hour counter and a seconds counter, along with 17 jewel components. The bracelet has a sturdy Tritium coating, and the dial is covered in stylish sapphires. Just gorgeous.
3. Pink Gold Rolex Oyster – $444,000
This distinctive gold watch was given to India's first president, Dr. Rajendra Prasad, on India's first Republic day in 1950. Dr. Prasad became well known for his subtle yet elegant style, so it's no surprise that there was no shortage of bidders when his famous watch went under the hammer. The watch has a very unique dial, featuring a gold map of India, and the date '26th January 1950′ engraved into it. Current estimates put its selling price at a shocking $444,000.
2. Eric Clapton's Rolex Daytona – $505,000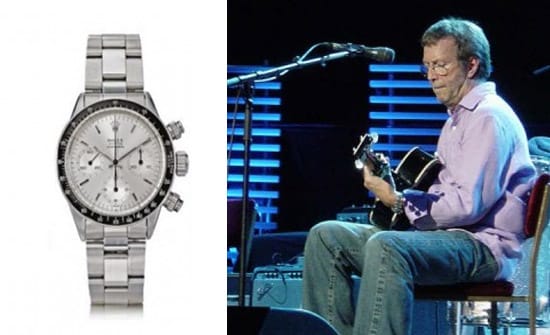 Clapton's 1971 Albino Rolex Daytona features a distinctive and unusual silver monochrome dial, which makes this model stand out against Rolex' usual designs. Despite its uniqueness, the watch was only estimated to sell at a fifth of it's actual selling price: it seems anything worn by Mr. Clapton will make a huge profit.
1. 1942 Rolex Chronograph – $1.16 million
This stunning oversized 1942 Rolex chronograph (reference 4113) features silver matte dials, 17 jewels, and applied pink-gold Arabic and baton numerals. So what gives it such a huge price tag? It's one of just 12 models ever made, and only 8 are thought to still exist. 4113's were given as gifts to famous race drivers and team owners in the 1940's, and had an estimate of between $681,000 and $1.13 million at auction. Wow.