When choosing a watch to accompany you on an adventure, it is important to select one that offers the appropriate features. For those interested in activities from racing to diving, Rolex offers watches designed with those specific activities in mind. Two of the most impressive models are the Daytona and the Submariner. But which is the best to invest in? For that answer, it is important to examine the many features of both, then compare them to what you wish to use the watch for.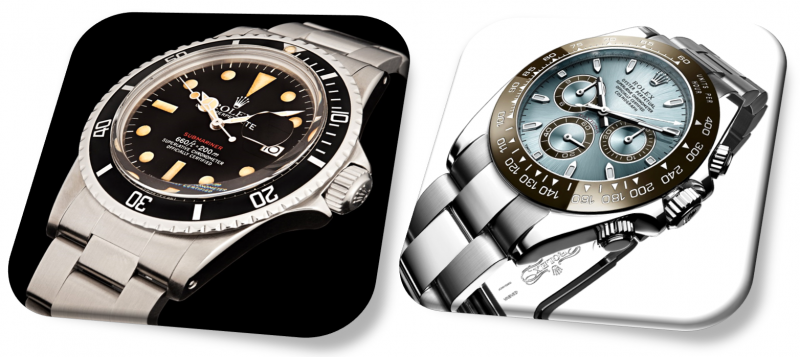 In a head-to-head competition, which model wins: the Rolex Submariner or the Rolex Daytona? The fact is that both watches have definite advantages and are suitable for different purposes. While the Submariner is a bit more casual than the Daytona, both blend well with a variety of dress styles.
If you are on the fence and don't know which model is best for your current needs read on.  Bob's Watches will give you a side by side comparison pointing out the good and bad for both models.
| | | |
| --- | --- | --- |
| Submariner | | Daytona |
| $5,000 – $15,000 | Pricing | $6,500 – $25,00 |
| 1953 | First Year Manufactured | 1963 |
| Self-Winding | Chronometer | Self-Winding |
| 330 Feet (100 Meters) | Pressure Proof Depth | 330 Feet (100 Meters) |
| Yes | Date Feature | No |
| No | Chronograph Feature | Yes |
| Link/Material | Band Type | Link/Material |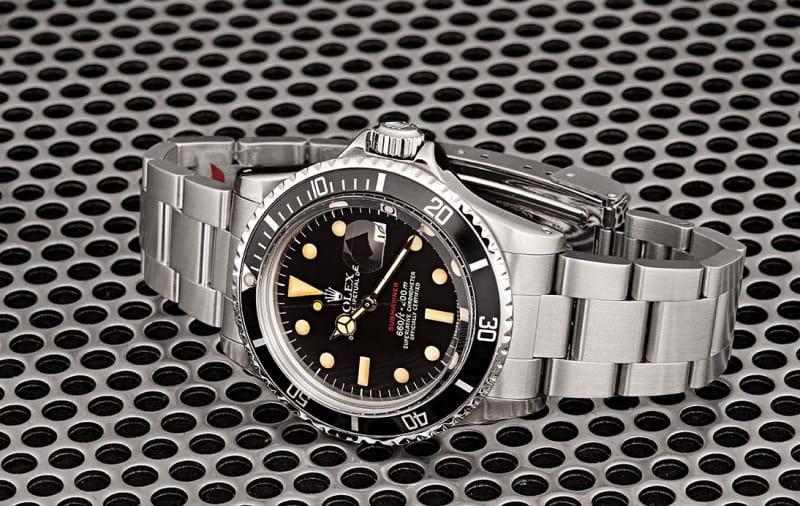 The Rolex Submariner Story
Since man first laid eyes on the ocean, they have sought out its many mysteries. For those who dare to explore its depths, Rolex offers the Submariner, first created in the pioneering era of scuba diving, designed specifically for divers.
The Rolex Submariner was introduced in 1954 after the company was urged to create a practical and beautiful dive watch. With attention to the details that keep divers safe, such as a unidirectional turning bezel and easy-to-read numbers, Rolex introduced the Submariner as a "working" watch. However, it shot to popularity when it was worn by both Sean Connery and Roger Moore as James Bond as well as the legendary Steve McQueen.
The Submariner – A Diver's Watch
The Submariner is the archetype of the diver's watch. It, like the Daytona with speed, truly links the wearer and the underwater world. Designed specifically for underwater exploration and diving, it featured many revolution elements, including a waterproof oyster case.
Mimicking an oyster shell, the Oyster case offers a screw-down back and bezel and a screw-down waterproof winding crown, preventing water from permeating its interior. This technology was originally invented by Rolex in 1926. Shortly thereafter, it was tested true by Mercedes Gleitze who swam the English Channel wearing a Rolex Oyster. It was free of water upon her arrival on the other side. The current Submariner's Oyster case is guaranteed to remain waterproof to a depth of 300 meters (1,000 feet). It also protects from dust, pressure, and shocks, ensuring the watch continues to work precisely.
Accompanying the Oyster case, the Oyster stainless steel bracelet is both strong and comfortable. Its Oysterlock clasp prevents accidental opening. The Oyster bracelet also allows fine adjustments without the use of tools. Thus, it can be quickly altered to be worn over a diving suit.

Diving Features
Other features of the Submariner Oyster were created specifically with divers in mind. For example, the Submariner's rotatable bezel is engraved with 60-minute graduations. These convenient measure marks allow a diver to accurately and safely monitor diving time and decompression stops. The bezel is also virtually scratch proof, created from the hard, corrosion-resistant ceramic Cerachrom. The Cerachrom bezels also maintain their vibrant colors over time, and are unaffected by exposure to sunlight. The Cerachrom bezels are also resistant to corrosion from both chlorinated and sea water, making it usable in any water activity. The Triplock winding crown was also designed by Rolex especially for diver watches, resisting water pressure to depths of 300 meters (1,000 feet) to 3900 meters (12,800 feet), depending on the model.
Diving can lead the user into dark or low visibility areas. The Chromalight display on the dial glows blue, which lasts up to eight hours. It maintains a uniform luminosity throughout, ensuring the entire piece is visible.
Inside, the Submariner is equipped with calibre 3130. This self-winding mechanical movement was entirely developed and manufactured by Rolex, and is certified by Swiss chronometers, a designation reserved for high‑precision watches.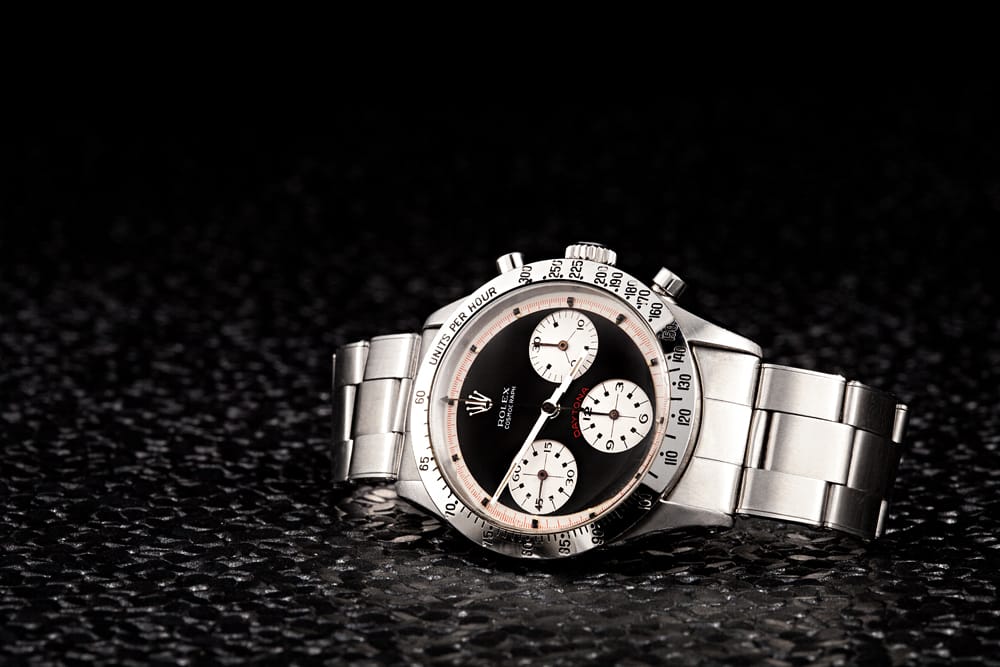 The Rolex Daytona Story
The engine revving and high speed driving is thrilling. But capturing time when speed is your objective can be difficult. The Oyster Perpetual Cosmograph Daytona is the perfect accessory for those seeking high performance, fine engineering and craftsmanship, and, of course, a passion for driving and speed. The Daytona is the best example of the Rolex chronography. It is reliable, waterproof, and self-winding, among its many features.
The Rolex Daytona and Paul Newman
The Rolex Daytona is named for the city where the first NASCAR race was held. Daytona has always been associated with racing, and the Rolex Daytona lives up to that reputation with its chronograph functions. Originally designed for racecar drivers, the Daytona shot to fame when Paul Newman sported his own model. Preceded by the Reference 6238, the Daytona evolved from a simple timekeeping watch to a "chronograph" watch that marked all types of information useful to those timing races.
The Daytona, or cosmograph, was originally launched in 1963. It was a new-generation chronograph, considered in many respects to be the ultimate chronograph. Dedicated to racing drivers, the Daytona provides the high performance accepted, while also remaining comfortable and elegant. It offers several features particular to drivers. The chronograph counters are easily seen, as they stand out clearly with strongly contrasting black and light color of the face and dials. The tachymetric scale, allowing the user to measure the average speed over a given distance, was moved from the dial to the circumference of the bezel. This new design feature, along with the contrasting coloring made the symbols far more legible.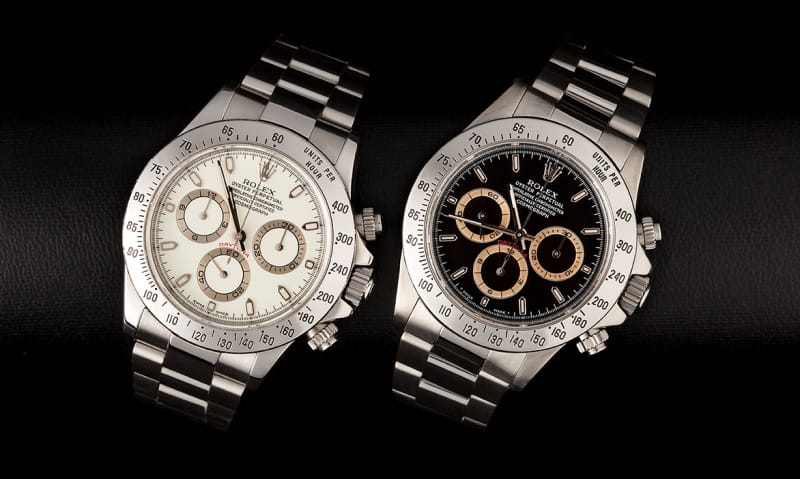 Daytona Features
In 2013, the Daytona became the first Oyster model in the Professional range to be offered in platinum. It also features a unique ice blue dial, exclusive to its Rolex platinum models. It is also equipped with a spectacular monobloc Cerachrom bezel. The Cerachrom is an exclusive Rolex innovation which offers exceptional resistance against scratching, as well as offering a beautiful and aesthetic appearance. The technical and sporty look of the Dayton make it instantly recognizable and timeless.
Rolex Professional watches are members of a ten year old category dedicated to various adventurers. For example, models such as the explorer were dedicated to explorers and mountaineers, offering special features that those in that particular experience could utilize. Like the explorer and Daytona watches, the Oyster Perpetual Submariner is a member of the Professional category, specially designed for those who pursue deep-sea diving.
Pros and Cons of the Submariner and Daytona
When it comes to pros and cons of each watch, the pros obviously win for both models! Rolex watches are always a good investment no matter which model you choose. However, each of these models has particular characteristics that make them a great choice.
Benefits of the Rolex Submariner

Model has been in production more than 60 years
Perfect for dive applications with its easy-to-read numerals
Water-resistant
Simple and elegant
Better entry-level price point
Retains value well and is easy to sell
Cyclops magnifier for reading the date
Easy-to-grip bezel moves only in one direction for diver safety

Submariner's Drawbacks

Not as elegant as the Daytona
May not transition well to formal settings
Relatively plain dial does not impress some buyers

Benefits of the Rolex Daytona

Features subdials or dials within dials, which are always popular
Variety in color and style that makes it easy to match the watch to various dress styles
Great symmetry in design making it strikingly attractive in appearance
Easy-to-use timing functions are useful for timing several aspects of a race at once

Daytona's Drawbacks

The chronograph features are not popular; most people prefer digital technology for timing and many buying the Daytona are not interested in racing
Does not feature a date
Higher price point than other Rolex models
Pricing for Submariner and Daytona
The price of each watch is, of course, dependent on age, condition and other factors but in general the Submariner costs less than a Daytona of similar age and condition. The Submariner starts at around $5,000 used and can escalate to as much as $15,000, while the Daytona will probably not be found for less than $6,500 and may go up to as much as $25,000.
Choosing Your Watch
Depending on the adventure one wishes to pursue, Rolex offers many high performance options. For those wishing to measure speed, particularly when driving, the Daytona is an excellent choice. Utilizing its conveniently placed tachymetric scale, for example, one can measure their average speed over a given distance. For those seeking adventure in the murky depths of the ocean, the Submariner would be an excellent choice. Resisting water pressure up to 3900 meters (12,800 feet), depending on the model, the Submariner offers many features specific to divers, including a monobloc Cerachrom bezel, marked to ensure divers adequately and accurately monitor their dive time. One who wishes to dive should consider the Submariner over the Daytona. Though both are waterproof, the Submariner offers many other advanced features that only a diver would be able to truly utilize. Thus, it is important to determine what the use will be, then determine which watch offers the most features to meet that. Both are superb pieces of craftsmanship, with neither being better than the other. Rather, their value is found in how you wish to use them.
In general, the Submariner is a considered a good sports watch. It also make a great first-time Rolex watch purchase. The Daytona is a considered a dress watch and is more appropriate in formal settings.